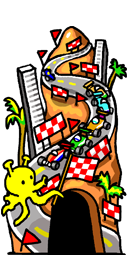 Into the Future - Stage 12
Information
Chapter 1
Energy:
38
Enemy's Castle Health:
25000
Enemies:
-Doge (300%)
Enemy Boss:
-Helmut Krabbe (100%)
Treasure:
English Version: Formula One Car

Japanese Version: クルーザー (Cruiser)

Score rewards:

7500 - Cat Food x10

5000 - XP 50000

XP earned:
4300
Stage Width:
3600
Max number of Enemies:
7
Chapter 2
Energy:
48
Enemy's Castle Health:
37500
Enemies:
-Doge (600%)
Enemy Boss:
-Helmut Krabbe (250%)
Treasure:
English Version: Formula One Car

Japanese Version: クルーザー (Cruiser)

Score rewards:

8000 - Cat Food x10

7000 - XP 75000

XP earned:
4300
Stage Width:
3600
Max number of Enemies:
7
Chapter 3
Energy:
58
Enemy's Castle Health:
50000
Enemies:
-Snache (1000%)
Enemy Boss:
-Calamary (100%)
Treasure:
English Version: Formula One Car

Japanese Version: クルーザー (Cruiser)

Score rewards:

7500 - Cat Food x10

6500 - XP 100000

XP earned:
4300
Stage Width:
3600
Max number of Enemies:
8

Monaco is the 12th stage in Into the Future.
Battleground
The battle starts with Doge, Snache, and Those Guys as peons. Jackie Peng, Sir Seal and Shibalien are the supports to the enemy that spawns when you hit the base: Helmut Krabbe in Chapter 1 & 2, and Calamary in Chapter 3.
Strategy
For Chapter 1 & 2: To deal with Helmut Krabbe, stall him and hit him with Long-Ranged attackers. Save your cat cannon for when his Lethal Strike ability activates.
For chapter 3: Calamary on its own isn't very hard, but 2 flops things around. To deal with it, use strong cats like Crazed Bahamut and Holy Valkyrie. If you have Castaway Cat, use him.
Reference
Ad blocker interference detected!
Wikia is a free-to-use site that makes money from advertising. We have a modified experience for viewers using ad blockers

Wikia is not accessible if you've made further modifications. Remove the custom ad blocker rule(s) and the page will load as expected.