This article is under-construction, more info will be added.
Gudetama (ぐでたま) is one of Sanrio's character, they have made collaboration with the Japanese, Korean and Taiwanese Versions of The Battle Cats. Event Period: July 13th, 2017 - July 27th, 2017.
Early State
All players will receive the Special Cat Gudetama Cat after Facebook, LINE and Twitter campaigns get 5000 shares/retweets. Period: July 11th~18th, 2017.
Twitter Campaign
Follow PONOS' Twitter page: [1]
Like the post with the hashtag 「#ぐでたまにゃんこ」 and retweet.
Facebook Campaign
Follow PONOS' Facebook page: [2]
Like and share the post with the hashtag 「#ぐでたまにゃんこ」
LINE Campaign
Register your LINE account as a friend.
Share the post with the hashtag 「#ぐでたまにゃんこ」
LINE campaign will also present collab gifts by lottery out of the participants:
*ぐでたま×にゃんこ大戦争コラボ記念クリアファイル: 10 SNSs each, total of 30 users;
*ぐでたま×にゃんこ大戦争コラボ記念むにゅむにゅキーホルダー: 5 SNSs each, total of 15 users.
Live Broadcasting
Broadcast start at July 13th, 2017, 19:00~21:00
MC: こーすけ、Yuki
Guests: ガッチマン、こまてぃん
If the broadcast reach 30,000 viewers, a Rare Ticket will be sent to everyone. By answering questions during the broadcast, collab goods can be received:
*ぐでたま×にゃんこ大戦争コラボ記念クリアファイル: 20 viewers;
*ぐでたま×にゃんこ大戦争コラボ記念むにゅむにゅキーホルダー: 6 viewers.
Collaboration Goods
Collaboration Café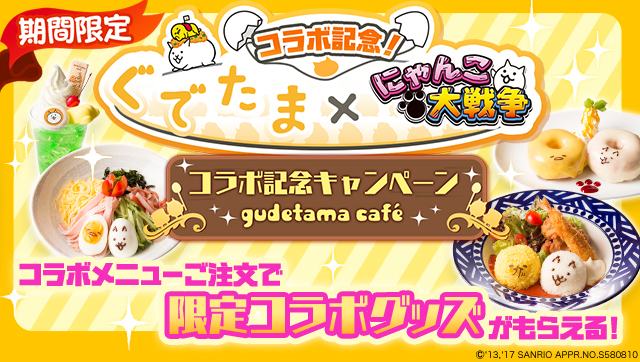 A collab menu is available at Gudetama Cafe (ぐでたまかふぇ) in Umeda, Osaka. Period: 13/07/2017 - 31/08/2017.
External Links
Ad blocker interference detected!
Wikia is a free-to-use site that makes money from advertising. We have a modified experience for viewers using ad blockers

Wikia is not accessible if you've made further modifications. Remove the custom ad blocker rule(s) and the page will load as expected.