Flame Caldera is the last stage in Volkanos Volcano.
Battleground
Kory first appears in here as a boss. Doge, Snache and Those Guys appear as peons and are spawned commonly throughout the battle. B.B.Bunny and Doge Dark are rarely spawned.
Strategy
Doge, Snache, and Those Guys will be spawned around the start of the battle. Spawn a few Wall Cats to stall them and to generate your wallet to the max. Once your money is maxed out, start sending out Dragon Cat. Keep spamming Dragon Cat only until the base reaches 600,000 health, where you can start spamming Sexy Legs for extra support. Once the enemy's base health reaches 500,000, Kory will appear. Keep spamming Dragon, but not Sexy Legs. Along with Dragon spawn in Valkyrie and Mythical Titan to support. Once you have killed Kory, spawn in everything so the base can be destroyed faster.
If you do not defeat Kory fast enough that he reaches your base, do not worry; as a last resort, once Kory approaches your base/lose too many Dragons, save up money. Once he starts hitting your base, spawn in Bahamut to finish it off. Should work if you have dealt enough damage.
A major point for defeating wave-attack enemies is to NOT using meatshields. Replace Macho and Wall Cat (Or Boogie Cat) with more high-stamina and high-power cats. Why? Because meatshield spamming only cause Kory's waves, killing your precious long-range dealers and more meatshields.
Also, having Michelangelo Cat and Sodom make this stage feel easier than the last level. Michelangelo Cat has high health and Sodom resists knockback so he can survive the shockwaves.
Walkthrough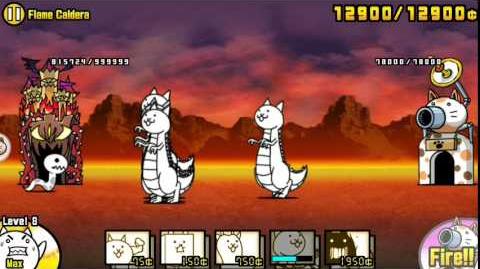 Reference
Ad blocker interference detected!
Wikia is a free-to-use site that makes money from advertising. We have a modified experience for viewers using ad blockers

Wikia is not accessible if you've made further modifications. Remove the custom ad blocker rule(s) and the page will load as expected.