Bahamut Cat (Special Cat)
Talk

0
818pages on
this wiki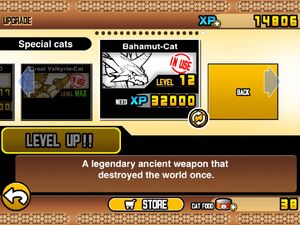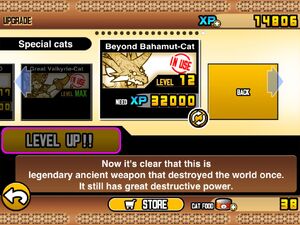 The Bahamut Cat can be obtained by completing Chapter 3. Evolves into Beyond Bahamut Cat at Level 10.
Pros:
High stamina
Has muti-hit area attack Capable dealing high damage to non-metal enemies in short to mid ranged (e.g all Bun Bun variants, Duche, Sir Baby Seal)
Cons:
Very slow attack speed and animation
Expensive
Long recharge time
Description
Edit
Normal: an ancient weapon that was rumored to have caused the first apocalypse has unearthly offensive power(area attack)
Evolved: Now it's clear that this is the legendary ancient weapon that destroyed the world once. It still has great destructive power.
Chapter 1: $3000
Chapter 2: $4500
Chapter 3: $6000
Appearance
Edit
Normal: Looks like a dragon with large arms and claws, and a horn on its head. Has a Cat symbol on its chest. Seems to have bird feet.
Evolved: It is colored and looks more realistic. It has tattoos on its arm. Now has spikes and little eyes on its knee. Cat symbol became a crazed cat.
Bahamut Cat
Health
Attack Power
Attack Range
Time between attacks
Movement Speed
Knockback
Attack animation
Recharging Time
1500 HP
5000 damage
450
240
6
3 times
121f
2400
Health (Lv.MAX)
Attack Power (Lv.MAX)
Attack Type
Special Ability
25500 HP
85000 damage
Area attack
-
Crazed Bahamut Cat
Health (Lv.MAX)
Attack Power (Lv.MAX)
Attack Range
Time between attacks
Movement Speed
Knockback
Attack animation
Recharging Time
25500 HP
85000 damage
450
240
6
3 times
121f
2400
Lv.MAX
Attack Type
Special Ability
Lv.30
Area attack
-
*Time between attacks is the time of the attack from the motion end until the next attack motion start
Reference
Edit